Chikankari outfits are the love of every woman. These Chikankari short Kurtis and readymade chikan Kurtis must have taken place in everyone's wardrobe.
However, Chikankari suits give you a blend of traditional and stylish outfits that satisfy women's need for stylish clothes.
Furthermore, there is a huge variety of Chikankari outfits. For instance, Chikankari anarkali, simple salwar kameez, Georgette chikankurti, Chikankari short kurti, cotton chikan kurti, Lucknow chikan suit, and so on.
Chikankari is a handmade creativity as it is a shadow stitch on different clothes with different materials.
For instance, chiffon, muslin, cotton, organza, silk, and Georgette. There are so many handcrafted chikan Kurtis online available.
Chikan suits are a blend of light and bright, which makes you look classy and elegant. If you are confused about how to pair your Chikankari, then read the article from beginning to end and you will get to know everything.
Chikankari outfits for the Holi Festival of 2022 in India
Mentioned below are the different types of chikankari outfits for the Holi festival of 2022 in India.
Chikankari Kurti
Although Chikankari Kurtis are expensive; whereas daily wear Chikankari Kurtis are available online, which are not so costly and are affordable.
These Kurtis are similar to the ornate chikankari Kurti. Such Kurtis are available with cotton silk embroidery on your neckline, wrists, and end of the Kurti.
It will look so beautiful and elegant even in daily wear. Therefore, women can pair a Chikankari Kurti with a Chikankari Palazzo or a simple Palazzo.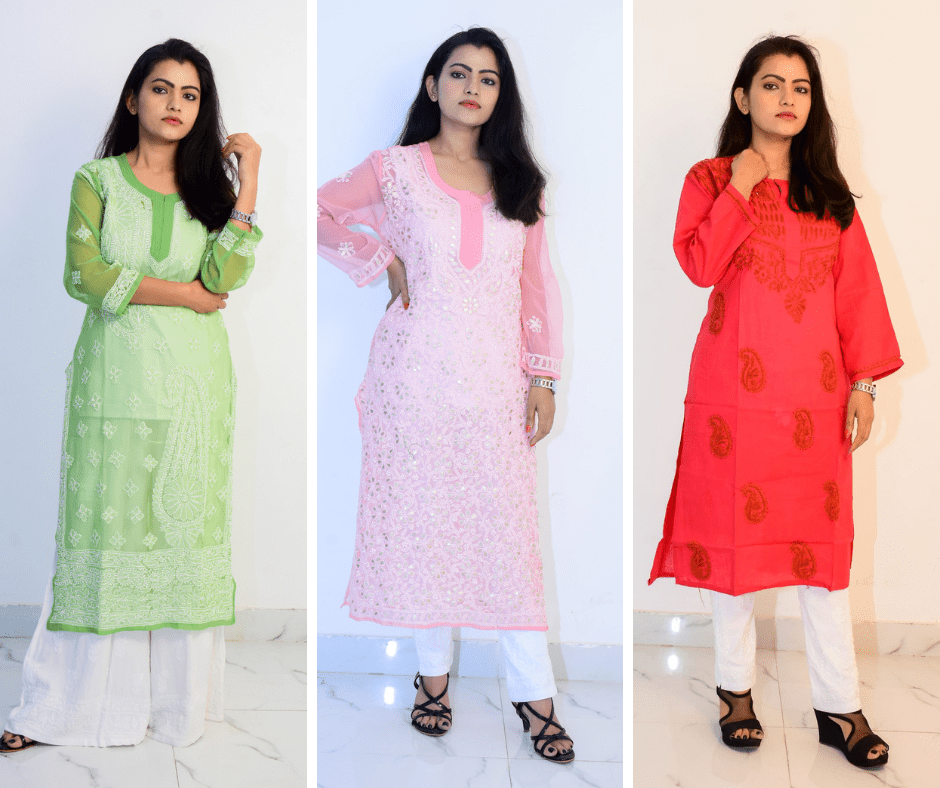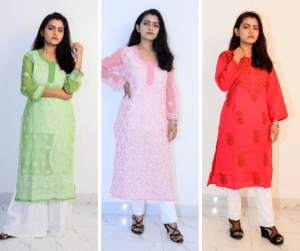 Anarkali Chikankari Suit
The Anarkali suit is one of the most renowned varieties of Chikankari suits. These Lucknowi Chikankari Anarkali suits are semi-formal and stylish at the same time. Such suits are heavily embroidered, available in all colours and pastel shades. When purchasing a Chikankari suit, always choose a lighter shade.
Stunning Chikankari Sarees
Yes, now Chikankari outfits are available in saree form to give you a stunning look. Those who only wear sarees can opt for it.
Besides, every girl and woman can carry it for parties, occasions, and small get-togethers. No matter how you do your makeover, the Chikankari Sarees always stay on top notch priorities of a woman for flaunting the style.
Perfect Chikankari sarees are available mostly in a single colour, and you can pair them with light diamond Jewellery.

Chikankari Lehenga with Intricate Embroidery
Whether you want to go to a high-profile wedding or a normal one, a Chikankari lehenga is a perfect choice all the time. Consequently, light colours with heavy intricate embroidery and small pieces of Jewellery give you the perfect bridesmaid look. In this wedding season, go with the Chikankari lehenga with a dupatta.
Chikankari Dupattas
Dupattas add the cherry to your outfit, so it should be beautiful, heavy, and attractive. A Chikankari dupatta will be a perfect match with a Georgette Chikankari Kurti.
Furthermore, you can pair any type of dupatta with your Chikankari or normal suit, such as half white dupatta, neutral colour dupatta, classic Lucknowi Chikankari dupatta, and so on.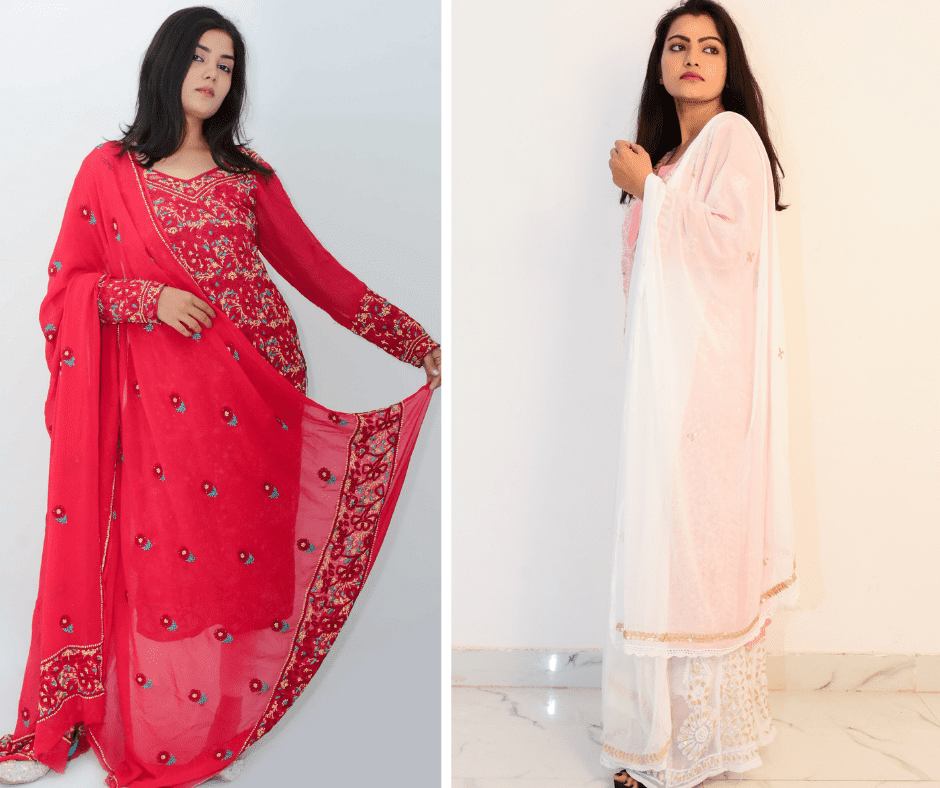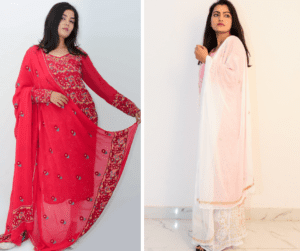 How to Style a Chikankari Kurti with Jeans?
The Chikankari Kurti gives college-going girls a stylish look as they can pair the short Chikankari Kurti with jeans.
Cotton Kurtis will be a mind-boggling choice for all times as they are comfortable and easy-going. However, you can opt for any fabric such as mulmul, Georgette, and so on.
Try an Indo Western Look
Those who do not wish to appear completely traditional can opt for an Indo-western look by wearing readymade chikan Kurtis.
Furthermore, pair your Chikankari short, long, or medium Kurtis with pants or jeans. However, it gives you an everyday look in summer yet is elegant.
To enhance its qualities, you can wear oxidized Jewellery such as silver earrings, bangles or assertion rings, and presto.
The Chikankari Kurti, a very beautiful handcrafted work, is defined as elegant, traditional, and classy. Here we let you know about Chikansuit's latest design, which you can try as a chikan Kurti for Holi festival 2022 in India.
Cotton Chikan Kurti Design
Slay in this cotton chikan Kurti design with the perfect ethnic look. All the colours are available in light and dark shades, but the lighter shades are what everyone wants.
You can pair your cotton chikan Kurti with Chikankari palazzo, which gives you a mesmerizing look.

Embroidered Chikankari Kurta With No Sleeves
College-going girls can go with a sleeveless embroidered Chikankari kurta as it may give them a young and beautiful appearance.
Furthermore, there is a sleeveless variant with a flared pattern design. You can buy handcrafted and machine-made chikan Kurtis online.
Chikankari Short Kurti
Go with a white and light Chikankari Kurti. You can buy a Chikankari short Kurti with sleeves or without sleeves.
In this, you will get embroidery on the neck, at the end, or a beautiful design in the center. Chikankari short Kurtis look best when paired with jeans or designed pants. It is a regular Kurti which you can pair with dainty accessories and loafers.
Angrakha Chikankari Long Kurta
Whenever you have to go to a get-together or occasion, you can choose an Angrakha Chikankari long kurta.
Angrakha's Chikankari long kurta gives a royal look and appearance. This is the latest design in Chikankari with poly georgette fabric. Girls can carry silver metallic heels and ethnic accessories with an Angrakha Chikankari long kurta.
Chikankari Rayon Kurti with Full Sleeves
Full-sleeve Chikankari rayon Kurti is an evergreen Kurti with an A-line shape. A Chikankari Kurti can be worn regularly from colleges to offices. Girls can wear it with leggings and pants. Do not wear a palazzo with this. To conclude, carry handbags and dainty accessories.
Chikankari Chiffon Kurti
When paired with pants or palazzo, the chiffon Chikankari Kurti gives you the appearance of being able to wear it anywhere.
Gives a subtle sense of style and a classy look. A Chiffon Chikankari Kurti gives you a mature look with flats or sandals.
Also, wear simple accessories to maintain the look. However, straight and center parted hair gives a full-to-ready look.
Many colours are available in the chiffon Chikankari Kurti, such as lavender, white, yellow, light and sky blue, green, sea green, and so on. Choose light to look bright in the daytime.
Latest Chanderi Chikankari Kurti Design
Chanderi suits and Kurtis are in trend, and here you will get a blend of Chanderi and chikankari. Thus, it is now available in Chanderi Chikankari Kurti online.
The Chanderi Chikankari Kurti enhances the look and gives a beautiful, personalized look. Here it is in full sleeves with Chanderi silk.
It is the best chikan Kurti for the Holi festival of 2022 in India. For the festive occasion, you can wear it with beige or white leggings. To complete your look, wear statement earrings and a sling bag. Girls can wear any sandals, flats, or heels that are comfortable for them.
Plus-size Georgette Chikankari Kurti
This is amazing for all the girls who prefer to wear loose plus-size Kurtis. No matter if you put on extra weight, you can still look amazing, beautiful, and representable.
This is a traditional Chikankari kurti. It is fully embroidered with shadow work and has long sleeves and knee-length.
All the cute girls will have elegant and charming looks in this pretty Kurti. Ladies can wear it with white or coloured pants with simple accessories. Plus, size Georgette Chikankari Kurti will give a complete look with wedges or flats.
Long Multicolor Latest Design Kurti
V-neck long multi-colour latest design chikan Kurti can be found on any e-commerce website.
Also, you can buy it from offline stores. An elegant long-sleeve Kurti has flower embroidery from shoulder to knee length.
Most of the time, it is available in black chiffon fabric, as doing shadow stitch embroidery will enhance the quality. Pair it with black leggings or pants. Lastly, wear heels, simple accessories, and a sling bag.

Lucknow Chikan Suit
The Lucknow chikan suit is a full-length kurta. V-neckline that gives it an Egyptian look. Here you will get heavy Kangan, shadow, and murri work.
Thus, a party wear Kurti can be worn with churidar, leggings, and skinny jeans. You can go in flats or heels. Wear silver or metallic jewellery with straight hair.
Conclusion
To conclude, Lucknowi's Chikankari outfits wins the heart on any occasion. There are so many Kurtis under the latest chikan Kurti, such as cotton Chikankari mukaish short sleeveless and cotton asymmetric Chikankari shorts Kurti.
In addition, kaftan chikan kurti, bakhiyan and phanda chikan kurti, patchwork chiken kurti, and so on. At any time, try to stand out with your best Chikankari Kurti.