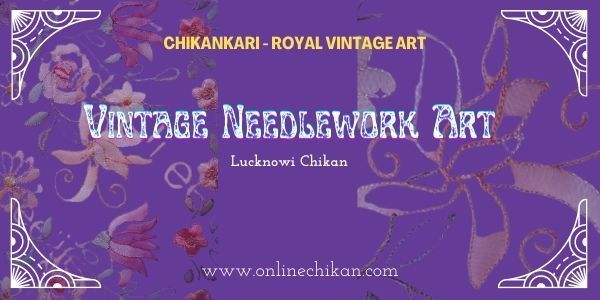 Vintage Needlework Art of Chikankari
Chikankari – Royal Vintage Art | Folklore and history behind Chikankari
Chikankari is a delicate talent that has been passed down from age group to age group and is more than 200 years old in India. Chichankars, however, was already in the 3rd century BC. Such. Megasten, a Greek traveler, mentions the use of muslin cloth with flowers. The origin of Chikankari has two stories. The first tale is a folk tale that is quite popular and continues in such a way that long ago a traveler came through a village in Lucknow.
He was dry and needed water, so he stopped and asked the poor farmer for water. Charmed by the sociability of the crofters, the stranger taught him the art of chikankari so that he would never go starving in his life. Another explanation is attributed to Nur Jehan, the Persian wife of the Mughal emperor Jahangir, who introduced Chikankari to India. The art form traveled to India when its craftsmen emigrated from Persia in search of better refuge. It is believed that this craftsman found a patron in the Mughal Empress Nur Jahan and she did a lot to popularize and popularize this form of craft. The term "Chikan" derives its sense from the Persian name Chakin. This means fabric that has been forged by hand.
Chikankari clothes made of muslin, cotton, and other light fabrics are often worn in warm places because they are cool and comfortable to the touch. Lucknowi Chikankari is also used in household linens, as well as in pillowcases, tablecloths, and bedsheets.
The Technology Behind Demanding Manual Work
There are several steps to reviving Chikankari's elegant model. Fabric is selected first. Initially, Chicano was worked on white muslin with the help of a white thread, but now on various fabrics like cotton, silk, chiffon, organza, mesh, etc, which are not necessarily white and with the help of colored threads.
After selecting the fabric, it is dyed in the desired color, then the pattern to be embroidered is printed on the fabric with one or more wooden blocks, on which individual patterns are carved. After all this, the hammer work is embroidered on the fabric. The traditional patterns are mainly inspired by Persian floral designs. But nowadays, apart from the paisley, fish, and raw mango shapes, modern designs are also flowing.
The stitch Behind the Elegance
As for the stitches used, there are over 35 stitches used in chicory to give each design a unique look. The type of stitch and the thickness of the thread determine the pattern and effect it creates on the fabric. Stitches are mainly divided into 3 main types. Flat, embossed, and raised seams. Flat seams are smooth and close to the fabric. Embossed stitches give the fabric a rustic look. Raised stitches give the fabric a higher effect. The most popular chikan stitches are Tepchi, Fanda, Muri, Makaish, Jaal, and Bakiya.
Some of these stitches are reserved for specific parts of the design, for example, zanzeera, a small chain stitch is only used for leaf or flower finishes; fanda and muri are a type of French knot used only to embroider flowers on the pattern. Many things come into play based on the craftsman's skill in displaying the beauty of a model.
Eternal Dominion and its Future
Chikankari was originally practiced mainly by skilled craftsmen. Last year it was practiced by women and this art was passed down in Lucknow village from mother to daughter, from mother-in-law to daughter-in-law, even between neighbors and friends. The Indian market faces little threat from China's machine-sewn intimidation but our delicate hand-embroidered baffles are poised to stand out for our chicks due to their particular beauty, their adaptation to modern trends, and the efforts of the Indian government and NGOs. In addition, Georgette chikankari Saree and Georgette chikankari Kurti are most famous in Lucknow.