The Lucknow chikankari is in trend due to its extravagance of chicken embroidery to give an elegant as well as classy look.
The Lucknowi chikankari not only gives elegance but also enhances a woman's beauty with its sparkling embroidery that is compelling to one's eyes.
These days the Chikankari kurta, tops are in trend and that's what we can see in Bollywood Industry fashionistas.
The royal touch in every color of Lucknowi Chikankari has given more heed to Bollywood stars for expressing their style elegantly because this is something that will never go out of style, no matter what century it is, the Bollywood celebrities never get tired of wearing  Locknowi Chikankari.
By seeing the trend want to explore the Lucknowi Chikankai and confused about how to style?
Then you have landed upon the right page where you will be given the fashion style tips that a Bollywood star is following to flaunt the Chikankari Kurtis, dress, or tops.
Jhanvi Kapoor Chikankari Style
We all have seen Jhanvi Kapoor wearing all white wherever she goes. This elegant style of Jhanvi Kapoor wearing a kurta, Palazzo along with dupatta of the same color definitely gives an idea that all white can really give you an elegant look for any casual get-together, dinner date or even party if accessorized accordingly.
Style Tips:-
You can wear a white Chikankari white kurta, top and carry the same color dupatta. This will give an illusion of elongated height.
For a party wear look, you can accessorize with junk jewellery. You can wear earrings, a simple chain necklace and a bracelet to not to let your hands feel alone. This will give you a simple classy yet party look.
Alia Bhatt Chikankari Style
In this, Alia Bhatt is looking stunning wearing a sea gree chickankari Anarkali kurta along with a dupatta. This defines the art of wearing clothes confidently and styling according to the occasion. Such type of Anarkali chikankari Kurti can be worn on casual functions or a dinner date.
Styling Tip:-
If going on a party or family function, style such type of Anarkali Kurtis along with silver jewellery, jhumkas on ears, a ring on the finger, bangles and a choker on the neck. This is going to give you a feel of the queen in the party which will be looking super classy. Yes, this type of styling is most favorable to the ones who don't like to get ready but want to look stylish at the same time.
Sonam Kappor Chikankari Style
Sonam Kapoor has been considered a fashion icon of the Bollywood industry. Whatever she wears becomes a trend. Look at this image of how beautiful this lehenga is looking and she is carrying it so confidently. The lehengas are on the hype for ceremonies or weddings. If you are planning to get married or planning to wear a lehenga at a wedding then you can definitely count on Chinkankari Lehanga which will you a proper Indian elegant ethnic look.
Styling Tips:-
You can wear such types of Chikankari lehengas on a wedding function, styling it with heavy jewelry complementing the color of the lehenga.
Aishwarya Rai Bachchan Chikankari Style
We all know Aishwarya Rai Bachchan has been a miss India for her beauty. Obviously whatever she will wear will look extraordinarily beautiful. This image is an example, where she is wearing a Chikankari Saree which is flaunting her style with minimalist jewellary.
Styling Tips:-
This type of Chikankari saree can be worn on any function which will enlighten the function. One can style this saree by wearing minimum jewellary, carrying a small sling bag or a party wallet and making a bun or tying up hair to give an astonishing look. Wear this saree and flaunt the style in the function, wherever you go people will definitely compliment you.
Kareena Kapoor Chikankari Style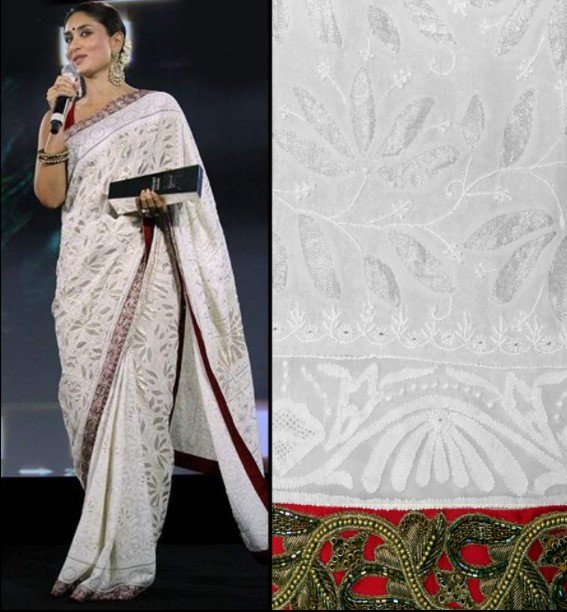 If you are someone who loves red and white color then you can definitely take style inspiration from Kareena Kapoor saree. Which is a Chikankari saree with red embroidery border. This is giving a sophisticated look to her charm and will yours too.
Style Tips:-
You can style such type of saree with minimum jewelry, wearing high heels to give an elongated height illusion, color complimentary Bengals, a royal ring and can tie hair back so that you can flaunt the style and give more elegance to the saree. This saree can be worn on any function with confidence as confidence is the first style of any woman.
Deepika Padukone Chikankari Style
Look at the above image of how marvelous Deepika Padukone is looking wearing this lehenga saree with golden sparkling embroidery on the border. She is flaunting the style beautify so does you can.
Style Tips:-
This saree looks beautiful on its own and you can style it with minimum jewelry, carrying a potali, wearing high heels, opening or tying hair as per your preference. You can also flourish the style in the party and eyes of all on you.
Hope the above Chikankari in today's Bollywood industry would give you an idea of how popular the chikankari is and styling tips on flouring it.